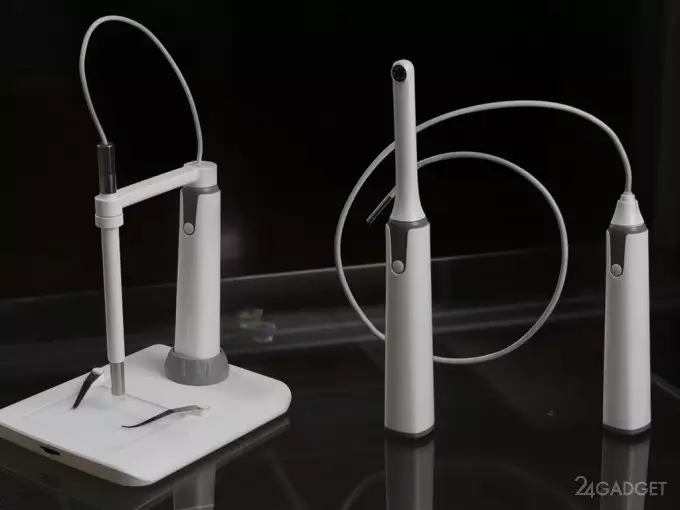 Kickstarter is hosting a fundraising company for mass production of the ScopeAround multifunctional wireless video camera, which, depending on the situation, can be used as a microscope or endoscope. The device is now available as part of a pre-order at a price of $ 99 for the device itself in conjunction with one of the nozzles to choose from. For additional cash investments, you can replenish the equipment with additional devices. ScopeAround can help the young naturalist to plunge into the microworld, turning ScopeAround using one of the special removable heads into a microscope. A macro lens allows you to study objects at a distance of 1 centimeter.
You can also look at the product where it is very difficult to look without it. A nozzle with a flexible head with a diameter of 5.5 mm turns the device into an endoscope. In this form, ScopeAround can be useful in repairing small mechanisms, in reviewing hard-to-reach spots in electronic devices, studying the skin of your own body and mouth without outside help, and so on. There is also a LED backlight.
The device is certified according to the IP67 standard, which means it is afraid of dust and immersion in water to a depth of one meter for 30 minutes. The battery life from the built-in battery is 2-3 hours. ScopeAround transmits all captured material via Wi-Fi to a mobile device.