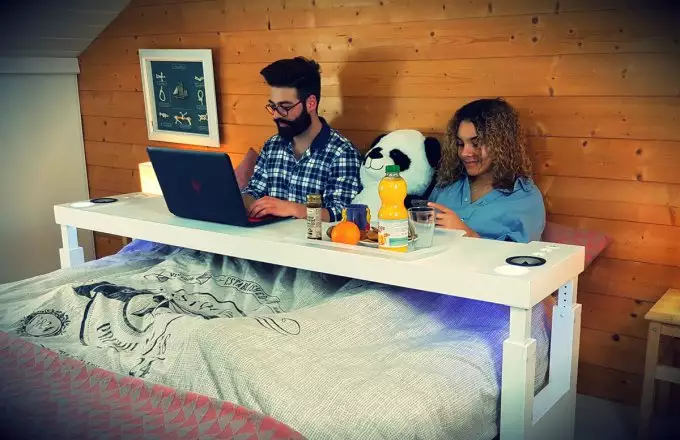 In any home, the most visited place is the bedroom. In it you can sleep and eat, play games and watch TV or work on a PC / laptop. For other purposes, there is a toilet with a bathroom. If it weren't for the norms imposed by society, most people would simply live in the bedrooms, never leaving them for anything. It was for such subjects that Bedchill was created.
It's about a simple but incredibly entertaining table. He will allow its owners, without getting out of bed, to do literally anything. This product easily replaces a laptop stand, food tray, soundbar and charging station. At the same time, it is very attractive. It remains to be wondered why it was not invented before.
Bedchill has legs with castors that are adjustable in height. On each side there are two USB ports and two sockets, as well as LED lamps and speakers. There are two drawers in the countertop.
You can experiment with such a table endlessly. Say, placing a laptop on it, you will work in bed without any problems. And this is much better than clogging his ventilation passages, laying on a blanket. Or install a large monitor directly on the table. It took work – move the structure closer. I wanted to watch a movie – move it to your heels. What could be more convenient ?!
The built-in speakers in the table are a good complement to the audio system. The backlight will allow you to read books in the evening. Included is a remote control for controlling the backlight and speakers built into the table.
A wire is drawn from the table leg to provide power. Its length can be adjusted without any problems. Excess meters of wire are rolled up automatically when moving the Bedchill. The table is supplied in two versions: Plus and Basic. Everything is included in the first, in the second there are no sockets, speakers, illumination and USB.
You can choose the right size during ordering. The table models are designed for both a double and a single bed. Bedchill on Kickstarter will cost $ 179. Deliver orders will begin in December.