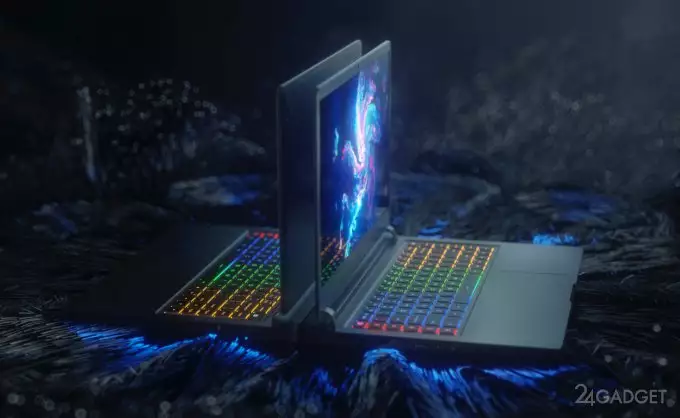 In the framework of the Chinese exhibition ChinaJoy, Xiaomi introduced the updated Mi Gaming Laptop with Intel Coffee Lake processors and the improved Mi Notebook Pro GTX.
Xiaomi Mi Gaming Laptop after the update has not changed much from the original. We recall, it was introduced recently – this spring. The update has a new chip from Intel: the 6-core Core i7-8750H or 4-core Core i5-8300H. You can choose a discrete card. The manufacturer offers a GTX 1060 with 6 GB of memory and a GeForce GTX 1050 Ti with 4 GB. Moreover, faster RAM is now available, DDR4-2666 is available in 16 and 8 GB versions. Users will also have access to two slots for upgrades.
There is a 256 GB SSD drive (M.2 format, Samsung PM961 model) and a WD hard drive for 1 GB of data. The card reader now supports the UHS-I standard and can read at speeds up to 105 megabytes per second. Intel AC9560 is another improvement. This is a network adapter, which has doubled the maximum data transfer rate, now it is 1733 Mb / s. The laptop for gamers, as before, is equipped with an IPS-display with a diagonal of 15.6 inches and a resolution of 1920 x 1080 pixels. The keyboard has a 4-zone backlight with a column of keys, including a button for switching to maximum cooling mode.
The set of interfaces has not changed: 3.5 mm audio jack, four USB 3.0, Ethernet, HDMI 2.0 and USB Type-C. A separate port is provided for power. Four versions of the gaming laptop will be sold. The top-end option will cost $ 1,310 and have a Core i7 chip, 16 GB of RAM and a GTX 1060 card. The model for $ 1,160 will have a Core i5, 8 GB of RAM and a GTX 1060. For $ 1,090, users will get a Core i7, 8 GB of RAM and GTX 1050 Ti. And finally, for $ 975 – Core i5, 8 GB of memory and GTX 1050 Ti. Prices, which, as always, are lower than competing counterparts, are relevant only for China. Xiaomi Mi Gaming Laptop has not yet been officially delivered to our area. At home, it will begin to be sold in mid-August. Xiaomi Mi Notebook Pro GTX – a laptop designed for everyday needs and work. It is also equipped with a Full HD display with a diagonal of 15.6 inches. In the top-end modification, it is planned to use the quad-core Core i7-8550U from Intel. A model with a Core i5 is not yet specified. Specially for the novelty, they created a cooling system, supplemented by two metal fans. It should increase air circulation by 38.5%.
Installed in the standard Pro version, the GeForce MX150 graphics card was replaced with a discrete GTX 1050 Max-Q. Two heat pipes are designed to remove heat from the card. The manufacturer has added a mode for increasing processor performance. It involves disabling a powerful GPU and using a laptop to accelerate the CPU. The speed at which tasks will be performed will increase by 20%.
RAM can be 16 or 8 GB, the SSD drive holds 256 GB. The manufacturer also installed a high-speed card reader that supports UHS-II cards and runs at speeds up to 312 megabytes per second.
Mi Notebook Pro GTX model is enclosed in a metal case. A fingerprint scanner is built into the touchpad, Windows Hello technology is supported. Most likely, they will start selling this new product also in mid-August. The base model with Core i5 and 8 GB of RAM is priced at $ 920. The top version will cost about 1110 dollars. At the same price, competitors can only purchase models in a plastic case. Metal analogues will cost about 1,500 dollars.