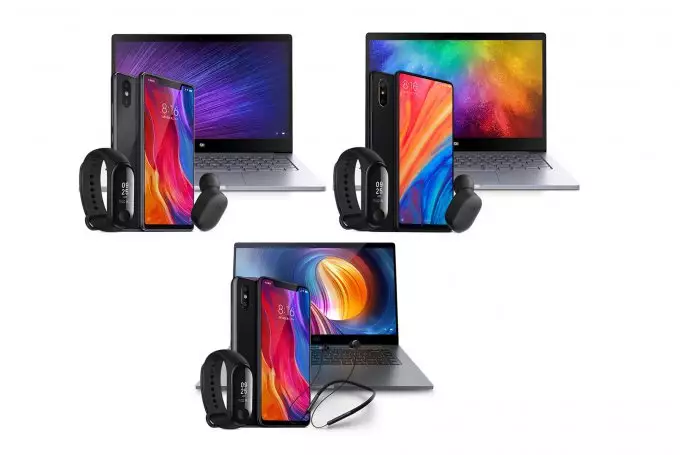 After the presentation of the last trio of the iPhone lineup, journalists and experts in many countries unanimously accused Apple if not of greed, then of unreasonably high prices. Ordinary buyers can not understand why they are offered to pay even more than last year. The situation was seized by Xiaomi, which immediately launched an action on trolling Apple with a benefit for itself. On three new, fabulously expensive iPhone, Xiaomi responded with the urgent preparation of three universal techno-kits. Each of them has a flagship smartphone from this brand, a smart watch, an audio headset and a whole laptop. But the main thing is that the whole sets cost exactly as much as the apple smartphones individually, and their names clearly indicate who is being ridiculed. So, the XR set, like the competitor iPhone XR, for $ 945. It includes a Xiaomi Mi 8 SE 128 GB smartphone, a Mi Band 3 smartwatch, a Mi Mini headset and a 12.5-inch Mi Notebook Air laptop with 256 GB of memory. The XS kit has similar bundles, but here the headset is more expensive, the Mi Bluetooth Headset Mini and the Mi MIX 2S smartphone are the best of the latest Xiaomi models, with 8 GB of RAM and 256 GB of main memory. Whereas the iPhone XS has only 64 GB at the same price of $ 1,265.
The third set mimics the iPhone XS Max and contains a Mi 8 smartphone with 6 GB of RAM and 128 GB of memory, a Mi Band 3 watch, a Mi Bluetooth Collar Headset and a Mi Notebook ProIt laptop. The price is 1398 dollars.
And for those who are interested in gadget specifications more than Apple trolling, Xiaomi offers to assemble its own similar set. And I'm ready to guarantee that it will cost no more than a single smartphone from an apple company.