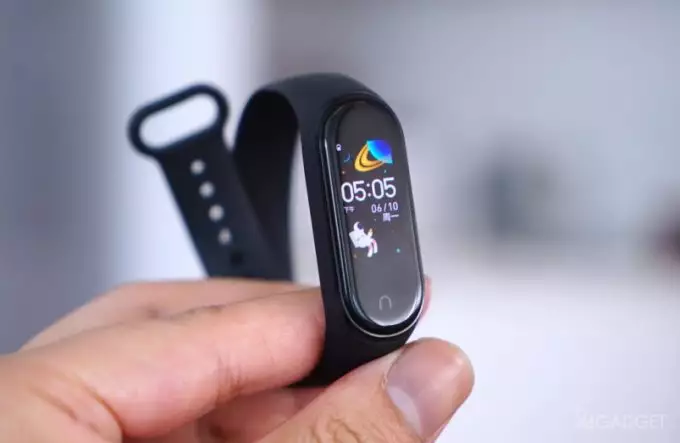 The 4th generation of the Xiaomi Mi Band "smart" bracelet is presented. The most important development options include increasing the battery capacity, color screen and NFC-module. The cost of new items remained the same as the previous model.
Externally, the new version of the bracelet is similar to its predecessor, but its design has changed significantly. The manufacturer removed the traditional recess in the display under the round touch button. Instead, an icon appeared on a flat surface. The tempered glass AMOLED screen has received colors. It has become more by 0.95 inches. Its resolution now is 120 x 240 pixels.
The fitness tracker has changed inside. Now it operates on the proprietary chipset Huangshan No.1. Xiaomi claims that its energy efficiency is 38 percent higher than that of analogues based on the Arm Cortex-M4 architecture.
The charging contacts are in the lower area of the case, and the heart rate sensor is in the center. Novelty weighs 22.5 grams. The bracelet is made from TPU. Allegedly, his buckle is reinforced. Mi Band 4 is introduced by Xiaomi in 2 versions: with or without NFC.
In addition, the bracelet is equipped with a Bluetooth 5.0 module and proprietary voice assistant Xiao AI. He knows how to synchronize with the smart home gadgets. The case of the device was protected from water: it can be immersed to a depth of 50 meters. The capacity of the built-in battery is 135 mAh. It is stated that on one of its charges the basic version of the gadget works autonomously for 20 days, the option with NFC – up to 15 days.
The device was supplemented by a mass of software features for tracking physical activity: walking, running indoors or outdoors, swimming, horseback riding, exercise. A 6-axis sensor is also built into the fitness tracker. Thanks to him, the device distinguishes swimming styles and in real time monitors the heart rate. It will be possible to control the training process through the Sports App, a proprietary Xiaomi app for smartphones.
The cost of the base Mi Band 4 from Xiaomi will be about 1600 rubles, models with NFC – about 2150 rubles. There will also be a limited edition in the style of the Marvel franchise Avengers for 3,300 rubles. The development will begin to be sold in China on June 14. When sales start in Russia, they will announce later. If there is no desire to expect the appearance of new items in the official store, you can pre-order now. True, the cost of such \