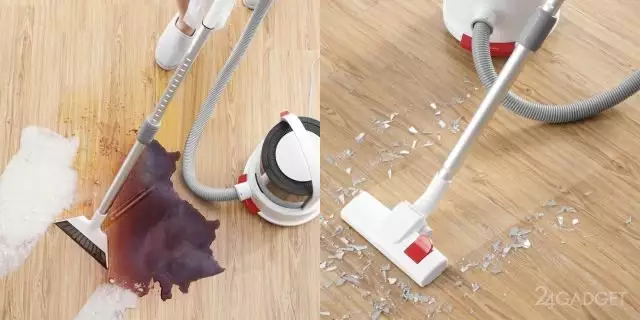 Xiaomi continues to delight its fans with new products. This time she released the new Delmar vacuum cleaner. No, it is not endowed with "smart" functions, it cannot be connected to a smartphone, but the operations that it performs will surprise many enthusiastic about modern technology.
The Delmar TJ200 model is able to cope with the most uncomfortable dirt and debris in the apartment, which for some reason disturbed its order: either the flower pot fell and the earth crumbled, or some liquid spilled, or the glass broke.
To eliminate every kind of clogging in the house, the vacuum cleaner has different types of nozzles that are attached to the telescopic pipe or to the hose outlet, depending on the type of cleaning. Spilled water is sucked in if you switch the filter by pressing the special pedal.
A special indicator will signal the filling of the dust container, the volume of which is designed for 6 liters of dry garbage and 3.5 liters of liquid. The drive is easily removable and freed from debris.
At your request, the Delmar TJ200 vacuum cleaner can act as a hairdryer, which allows you to dry the surface after collecting spilled water, as well as perform other work on drying your clothes or your pet's coat after bathing or in the rain. The technical characteristics of the Delmar TJ200 vacuum cleaner are: • rated power 1 200 W; • suction power of 18 kPa; • the presence of a replaceable HEPA filter; • the presence of a filter in the engine compartment. The preliminary price of the vacuum cleaner is 399 yuan (about 3,700 rubles). The start of sales is scheduled for July 30, in the future they plan to sell the new product on AliExpress and in other online stores.