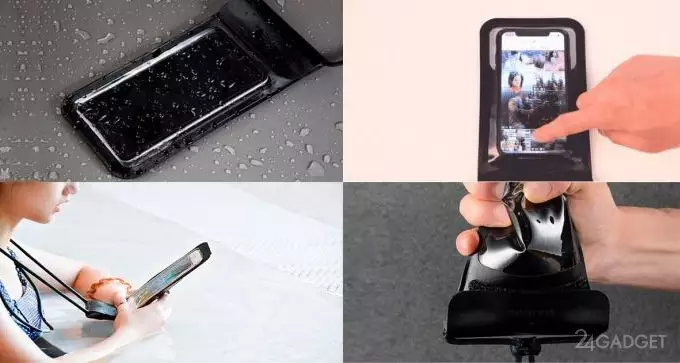 Xiaomi is a manufacturer from China who does not tire of pleasing its new and regular customers. The other day, the company demonstrated and started selling a case that protects smartphones from water and costs only $ 5.
Accessory provides any smartphone with a screen diagonal of up to 6 inches with reliable protection against moisture and water according to the IP68 standard. According to the manufacturer, this waterproof cover is made of thermoplastic polyurethane. On its back cover in the area of the camera there is a transparent insert that allows for photo and video shooting. It is argued that the transparent material gives no glare or distortion and allows you to take high-quality images regardless of weather conditions.
There are currently many analogues on the market. In contrast, the front side of this case is not made of a transparent polymer, but of a special material with the highest sensitivity. It is more efficient in transmitting electric current and therefore provides comfortable control of the smartphone. That is, Xiaomi engineers managed to defeat the main attack of this kind of protective equipment. We are talking about an unimportant reaction to touching the touch screen through the film of a protective accessory.
Before you start selling the case, the company has repeatedly tested it. During the most extreme test, the smartphone was immersed for 10 hours to a depth of 5 meters. The gadget as a result did not receive even the slightest damage, which means that this number can be repeated to users, for example, at sea.
For the convenience of carrying, the waterproof case from Xiaomi was supplemented with a special strap that allows you to wear the accessory around your neck. The product will be sold in gray and black.