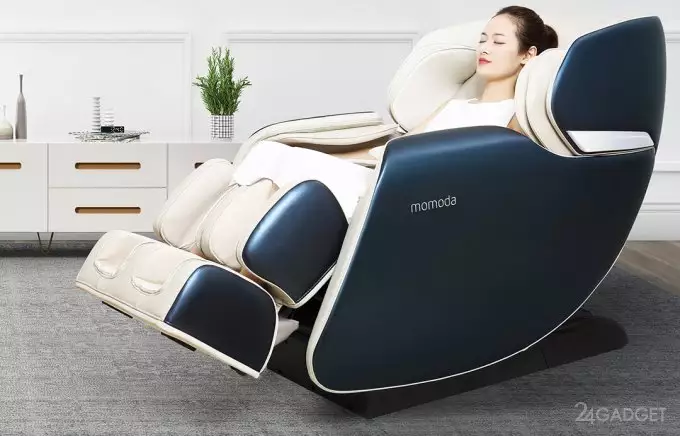 Momoda and Xiaomi are launching a large massage chair designed to relax as much as possible after a hard day at work or training. It has 6 basic operating modes with various massage techniques. The novelty is able to adapt to the height and weight of the user. The position of the shoulders is determined automatically. Based on these data, the movements of a particular movie are adjusted. The body is also affected by thermal structures based on graphene. They accelerate blood circulation and warm the joints.
For the feet, calf muscles and hands there are soft, covering pillows equipped with vibration mechanisms. From the application on the smartphone or on the remote control, you can adjust the massage force of different parts of the body. If necessary, you can choose your own massage regimen, choosing which muscles and how to act.
A special mechanism not only tilts the chair, but also turns on the zero gravity mode if necessary. In this case, the body weight of a person is distributed on the chair as evenly as possible. At the same time, the load on the joints is extremely reduced, there is a sensation of soaring in the air. The development looks rather cumbersome. However, its dimensions relative to analogues are not too large: 146 x 70 x 115 centimeters. Thanks to the wheels mounted at the back, the chair is easy to move around the apartment.
Momoda and Xiaomi make a novelty from durable artificial leather, while its soft filling is made from fire-resistant eco-friendly materials. The device is estimated at 6599 yuan, or about 61,600 rubles at the current rate. It will begin to be delivered at the end of summer.