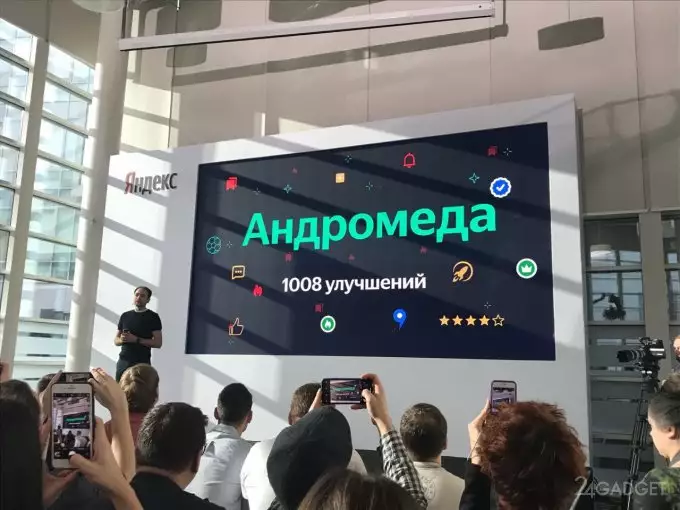 Yandex demonstrated to Andromeda – a large-scale update of its own search, supplemented by many new options. According to representatives of the corporation, the key among them were reviews, quick answers, collections, as well as labels for sites.
Quick replies directly to the search results have been offered by Yandex for a long time. The search engine database already has many cards with different facts that are now displayed more than 13 million times daily. The company decided to expand the topics of these answers. Now there are not only known data from encyclopedias, but also news, events, recipes in the form of a carousel. There are catering establishments with rating and visitor reviews.
In addition, the latest Yandex Yandex service is integrated into the search. Connoisseurs. \If a person could not find the answer to the question, he will be able to ask him \Their answers will be displayed to the right of the search results, as well as a chat with companies that provide services on topics of interest.
Everything that the user finds on the Internet can now be saved in collections (analogue of the \Previously, they included only pictures. Now they can contain movies, videos, links, various objects and places. Selected information will be stored in the Yandex. Collections \You can either share it with other users or subscribe to other people's collections. Collections can be made public or personal. In the first case, absolutely everyone will see them in the search. The recommendation system also works in this option. In each case, Yandex will offer collections with a similar theme.
Tags for sites added by Yandex will make it easier for users to select the appropriate resource in the search results. The most popular sites are now marked with the \If the loyalty and involvement of visitors to the resource is high, it is marked as "User Choice". Official sources of information are labeled "Official Site". One resource can be marked with several icons at a time.
Moreover, Yandex has updated the ranking formula, which now takes into account the quality of the site. The first lines of the search results will include resources with decent indicators of returnability, as well as having an optimal balance of advertising and content content. Here are only the most striking new items in the Andromeda update. In total, it contains 1,008 improvements created by Yandex. Search "during the last year., Vedomosti.ru