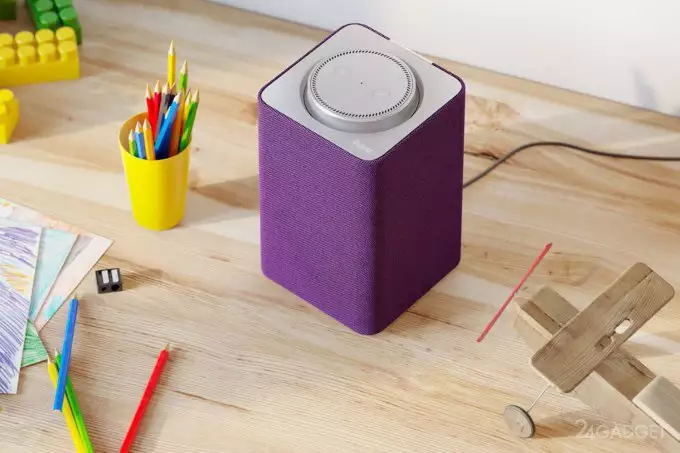 Today, Yandex at the Yet another Conference 2018 event introduced its first gadget – the Yandex.Station smart column with Alisa, a corporate digital assistant who understands Russian-speaking speech. The smart device can recognize sound, perform voice commands, turn on music and connect to a TV. Yandex.Station is equipped with seven microphones that identify and determine the source of speech even through loud music or noise in the room thanks to proprietary Yandex io technology, there is a button for hardware mute microphones and turn on / off the device. At the top there is a luminous led-ring that lights up in purple at the moment when the user accesses and the request is processed through the Yandex server.
The Russian smart speaker can carry out various tasks, remind about events from the calendar, set an alarm, check the weather, news, play music, find video content even by description and display it on the TV. In the last two scenarios, Yandex.Station also acts as a remote control. The possibility of online shopping via the Internet is supported, however, for now, in order to confirm the operation, you will additionally have to go through the verification procedure through the companion application installed on the smartphone. In the future, the developers promise to add biometric recognition with identification of the votes of family members so that the guest or child does not buy something unplanned.
The dimensions of the new product are 140x140x230 mm, the power output is 50 W, the frequency range is from 50 Hz to 20 kHz. The design consists of a subwoofer and 2 radiators for deep, surround bass, as well as 2 tweeters for high frequencies. The smart speaker has an HDMI interface for connecting to a TV panel and wireless Wi-Fi + Bluetooth communication modules with the ability to listen to music from a smartphone.
Yandex.Station will go on sale this summer at a price of 9,990 rubles. The buyer will be able to choose between aluminum (two colors) and fabric (three options) performance. Together with the gadget, the buyer will receive as a gift 2 months of free use of the ivi service, 3 months with Amediatekoy, 12 months with KinoPoisk without ads and Yandex.Music with 35 million songs. To top it off, the developers said that they are already working on implementation in Yandex. Station "functions of a smart home, but there is no information on the timing of the implementation of innovations.