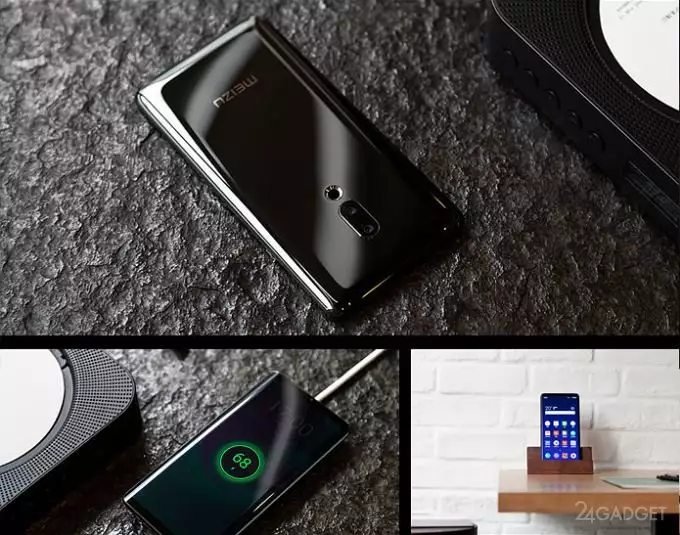 All week after the announcement of the world's first seamless Zero smartphone, devoid of buttons, speakers, slots and connectors, Meizu launched a company to order a unique device on the crowdfunding platform Indiegogo. True, his price is corresponding.
Meizu is still in no hurry to reveal all the features of the new product, but it has been confirmed: a 6-inch OLED display with an on-screen fingerprint scanner, last year's top-end Qualcomm Snapdragon 845 processor, Sony's IMX350 main camera with two sensors. The monolithic all-ceramic case with IP68 protection does not contain connectors for headphones and USB wires, there are no speakers in it (they are replaced by a front glass that transmits sounds using proprietary mSound 2.0 technology), a slot as sim cards and the usual volume and power buttons on the ends.
To charge the device using the included docking station with support for fast wireless charging Super mCharge Wireless with 18 watts. Data transfer, for example, to a PC is carried out using a wireless module that operates at a frequency of 60 GHz and provides data transfer speeds at the level of the USB 3.0 standard.
Meizu Zero operates on Flyme OS, the manufacturer's proprietary shell. The version of Android OS Meizu used as the basis is not reported. Dimensions of the device are 149.75 x 74.27 x 7.85 mm, weight is unknown. To ensure cellular communications, the manufacturer has chosen the standard of virtual SIM-cards. Recall that in Russia eSIM do not work.
Now the manufacturer is ready to sell Meizu Zero for $ 1300. In total, the company hopes to raise at least $ 100,000 at Indiegogo. Meizu promises to send an unusual smartphone to its first customers in April of this year.