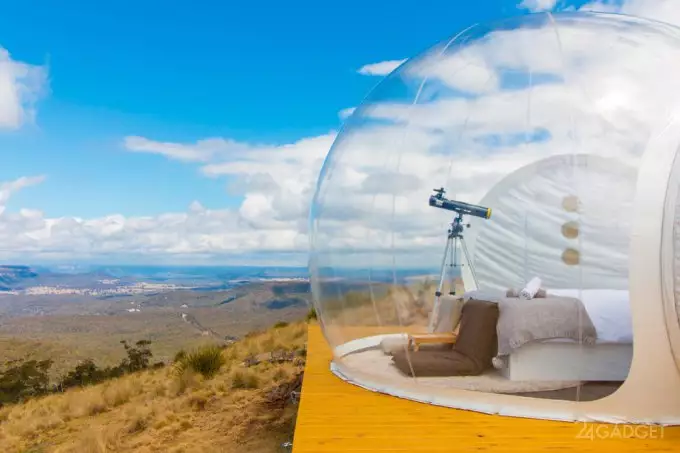 Eco-tourism is becoming an increasingly popular type of vacation in the world. However, no matter how beautiful the untouched nature was, it is difficult for a modern person to do without the usual comfort – a wet tent and burnt porridge cooked in a pot on a fire are not for everyone's taste. How to provide an eco-tourist with comfortable conditions, and besides, for not too much money? That's why the concept of a hotel-bubble was developed.
The bubble serving the room is made of transparent plastic and is equipped with a silent ventilation system that constantly pumps air into it. This is necessary, on the one hand, to maintain the shape of the structure, and on the other hand, to ensure air exchange and removal of gases and moisture from the bubble. In addition, in this way it is possible to provide the "air bubble" with the desired air temperature and oxygen flow.
Bubbles can be easily connected to each other using a system of gateways (also inflatable). They can be fitted with underfloor heating, a bathroom is built and other equipment is installed that does not need load-bearing walls.
Such a hotel of bubble rooms designed for an arbitrary number of residents can be mounted in the shortest possible time almost anywhere, whether it is a desert, mountainside, jungle or the roof of a skyscraper in a megalopolis. And the problem with the toilet is not difficult to solve with the help of mobile dry closets, which have long been available on the market.
Of course, the bubble room is not intended for permanent, but for temporary residence, it will also not withstand the impact of the elements, but in order to live some short time in an attractive corner of our planet for little money and without violating the environment, they quite fit.
The idea is so tempting that it will probably be adopted by large hotel chains, but when the mass introduction of this technology begins, it is still unknown.